But you must register today!
Imagine getting the same exciting, profitable trades Steven does, catching major moves in the big indexes like the S&P500, and the DJIA, along with the "unexpected" moves of major stocks like Tesla, Apple, Home Depot, and hundreds of others off-the-radar names!

Before today, this was available only to a small handful of wealthy private clients.

In fact, Steven is so successful at picking stocks that he personally guarantees your success with a 10X Guarantee. If you don't earn 10x your investment within your first 12 months, Steven and his entire team will work with you a second year for free to ensure maximum success. How is this possible?

The right trade (at the right time), combined with the ideal trade structure that supercharges and amplifies results, can conquer any market condition, any trend, and accelerate profits to new levels.

The goal is simple: bigger wins in less time.

This is especially important because repeated winning trades at high profits has a compound effect which has the potential to make up for years of mediocre results. When you combine his amazing ability to understand the markets, to read it accurately, identify opportunities, and make the right trade calls, you're halfway there.

Combine that with his decade-long study of how to find the right options to multiply profits far beyond what a typical long stock position could yield, then you have a powerful combination that can create a wealthy life.

Steven has years of proven trading success using this strategy. Now he's giving it to you. This is the very first time he is allowing traders to receive his signals, get his guidance, his option trading secrets, and our VIP trade management service to ensure maximum profits with minimal mistakes.

Volume Profile done the right can change your life. Not only will you get…

ACCESS TO ROADMAP TRADE SIGNALS AND ALERTS - For 12 months, you will receive detailed trade alerts from Steven
A $30,000 Value!

TRADE STRUCTURE - Each and every trade call includes trade structure, to amplify up your profits up to 1,000%
A $20,000 Value!
Weekly Trade Monitoring - Via video to save you time, reduce effort, avoid making mistakes!
A $20,000 Value!
VIP Client Support - A dedicated customer service team, Steven and his team will be just an email away to help you
The first 50 members to Precision Volume Alerts will get access to all of Steven's current open trades That still have significant upside potential.

That means you don't have to wait for the next alert signal… You can begin down the road to wealth immediately.

Remember… your investment is guaranteed to multiply by a factor of 10, or you get a second year for free. NO gimmicks, no BS, just Steven's personal commitment to help you become a better, more profitable trader.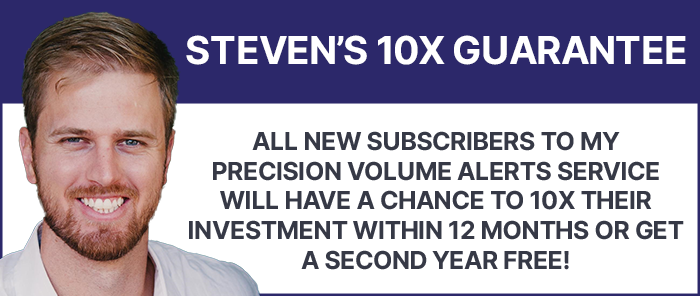 You can find gains similar to:
78% on Home Depot in 2 mo.
Steven wants your account balance to be unrecognizable.

Remember… You have Steven's amazing 10X profit guarantee backing you up, and his years of experience. His team who will be scouring the markets for the trades that meet Steven's high standards.

Once a week, you will receive a video summary direct from Steven detailing any new buys, sells or stop adjustments issued during the week.

It couldn't be easier to follow! So take action NOW.